Help grant wishes every month. Become a Monthly Wishmaker.
---
Granting wishes to kids with life-threatening medical conditions gives them more than an amazing experience. A wish come true has the power to make kids feel stronger, more courageous, and more determined to overcome their illnesses. A combined 89 percent of doctors, nurses and health professionals surveyed say they believe a wish experience can influence wish kids' physical health.*
When you make a monthly gift today, you'll help Make-A-Wish reach its goal to grant the wish of every eligible child. Monthly Wishmakers are dedicated supporters who make regular monthly gifts and help make a lasting impact on the lives of wish kids and their families. Donate now.
* "Wish Impact Study Results — Second Phase: Jan. — Aug. 2011" (consolidated results), Nov. 2, 2011.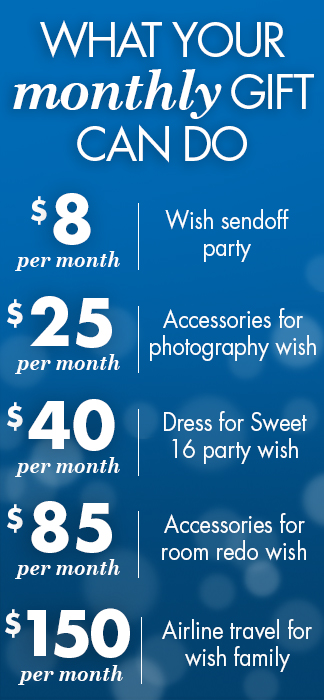 If you're unable to make a monthly commitment, please make a one-time gift.